With LACY'S Stiff Stuff(tm), the only limit is your imagination!
Cut to shape, sketch in design, color background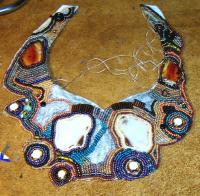 then do what you feel like!
The advent of a workable surface like LACY'S Stiff Stuff (tm)opens a whole new avenue of creativity and possibilities for beaders from beginners to professionals. LACY'S Stiff Stuff(tm) can be cut to size, dyed, drawn on, handled, worked on, reworked, or just generally taking a beading(sorry)--and LACY'S Stiff Stuff(tm) stays firm, allowing you to work right out to the edge. Your needle glides through this foundation material without fuss or force.